Master the skill that can make you look cheerful, younger and be self-confident
~ Skin Care
How to choose suitable personal Skin Care for my age.
~ Foundation Application
What type of foundation that suitable for my skin.
How much foundations needed to apply to my face.
~ Getting your perfect eyebrows
How to choose the right eyebrow pencil to create a perfect eyebrow shape.
Is the current trend eyebrow shape suitable for my face?
~ Getting ready for your eye makeup
Choose and apply the right eyeshadow color for your skin.
How to draw eyeliner and apply mascara to enhance your eye.
Eyes adjustment Technique.
~ Tips on perfecting the art of putting faux eyelashes
How to select and choose the suitable eyelash for my upcoming event.
~ Leisure Day and Night Make-up
You will be confident using your own makeup cosmetic to achieve a friendly, approachable & professional image on different occasions.
Results guaranteed with Liren Neo's masterclass
Course fees and details (Total of 4 hours)
$400/- for 1-tutor-1-student lessons.
$300/- per student for signup of 2 person together.
Group Discount is available for 3 person or more signup together.
Promotion is only valid for signup made in the month of August 2022.
Certificate will be given upon completion of course.
Course is Not Eligible for Skill Future.
Choice of course sessions (1-to-1 or 4-6 students/class)
Wednesday Afternoon (2:30pm – 4:30pm) OR
Tuesday and Thursday, Evening (6:30pm – 8:30pm)

Skillfully adopting natural shades to bring out the beauty in every face.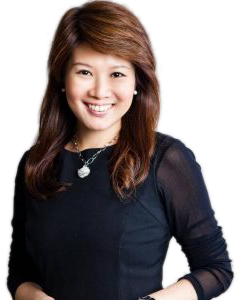 Since 2011, many international makeup artists have undergone the courses with Liren and benefited. Liren has conducted hundreds of makeup courses across Asia and Singapore.
Liren teaches and share unselfishly with her heart and focuses on every student's strength and weakness. Students are taught in small groups so that every student will receive undivided attention to develop better makeup skills along the process.
This course takes you through all the basic skills in professional makeup artistry. It covers day, evening and special occasions look plus all the technics required to achieve.
It is suitable for both beginners and those who wish to refresh or update their natural skills.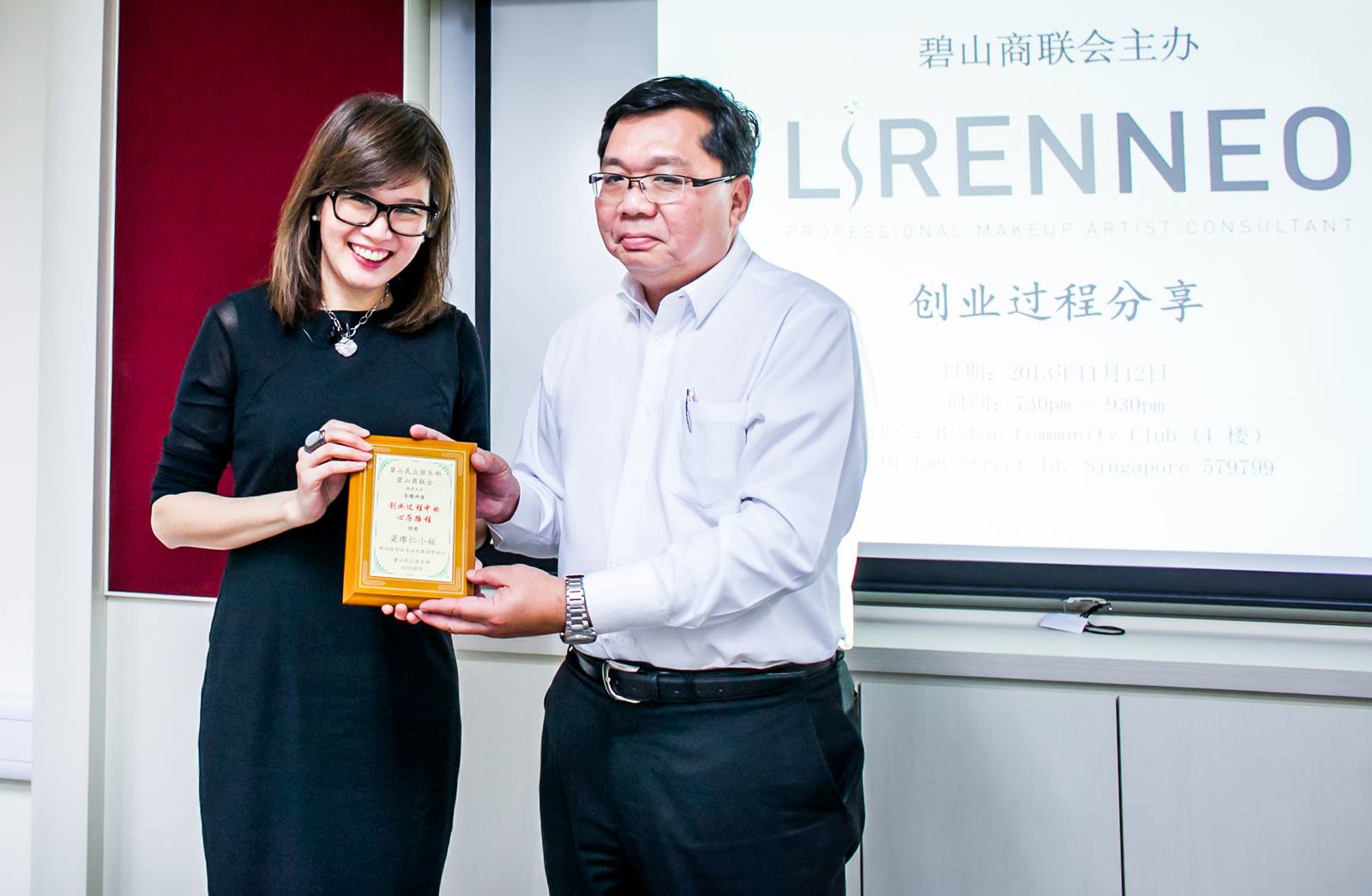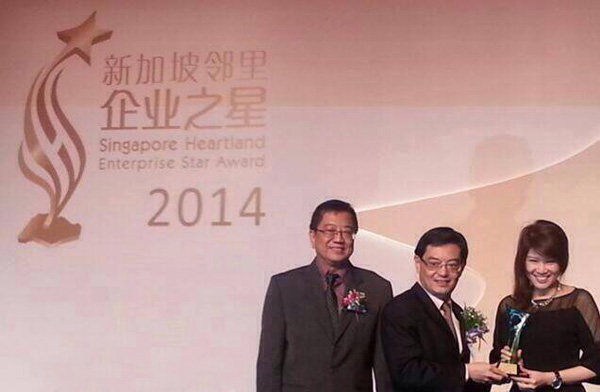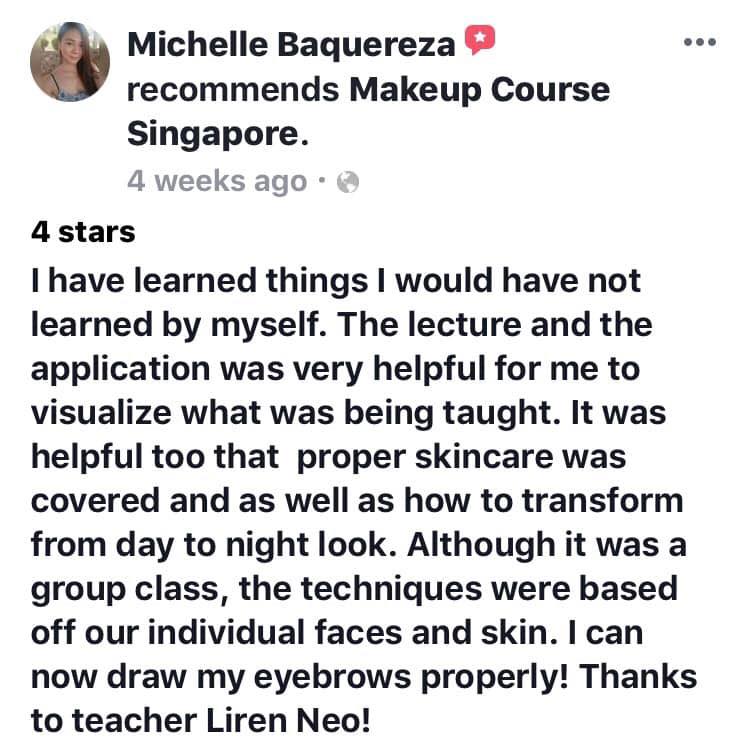 "I regain my confidence that  I can stay beautiful and improve my social confidence with clients and friends"
"I am afraid of complicated makeup process. Liren's step by step method helps me to overcome my fear . I use her fuss free method everyday now"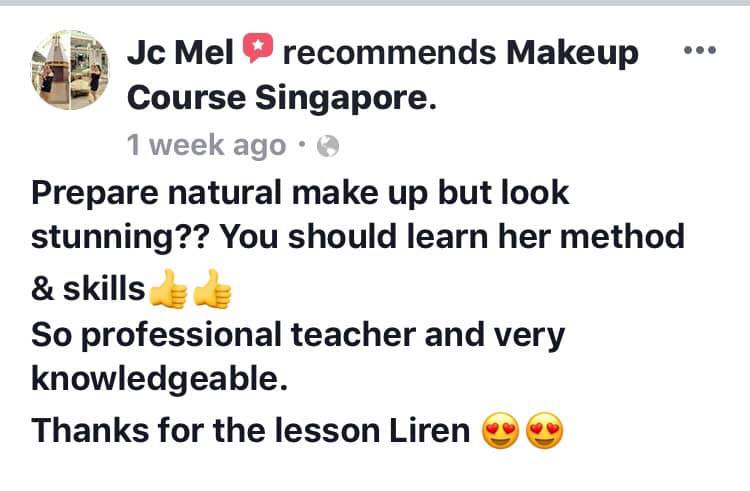 Address
20 Upper Circular Road Road, #01-19,
The Riverwalk, Singapore 058416
Paynow (Beauty Magic by Liren Neo)
UEN 53050704L
50% deposit upon confirmation
Many thanks for your support and I look forward to be of valuable service to you.